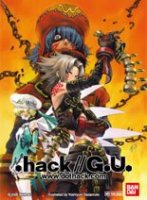 ".hack//GU Vol.1 Original Postcards" will be distributed at game shops nationwide!
This postcard was drawn by Yoshiyuki Sadamoto, who oversees the design of the game!
Distribution will start around Thursday, February 16, 2006.
It will end as soon as it is gone at the store, so don't forget to get it!
*Since the quantity is limited, it will end as soon as it runs out.
*May not be available at some stores.
*For details, please inquire at the store.
※The photograph is an image. It differs from the actual one.