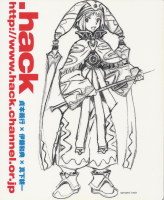 It was held for three days from 10/12 to 10/14 the other day Tokyo Game Show 2001. Thank you to everyone who came to the venue. Distributed at Bandai Booth. This is the limited mouse pad! As you can see, Yoshiyuki Sadamoto, who is familiar with Eva in this work is in charge of character design.
...now...who is this character...?
If you can get it, use it properly.