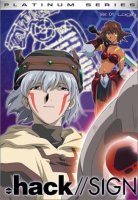 Synopsis
From the same all-star anime creative team: Yoshiyuki Sadamoto (Evangelion), Kazunori Ito (Ghost in the Shell), and Koichi Mashimo (Noir).
Login to the most successful online game in history! "The World" is being played by millions of people around the world, making it the most popular game ever. Players can go online and trade items, form parties, and go on quests. But none of that concerns Tsukasa. Trapped within "The World", a virtual prisoner - His journey from the digital world to the real world has just begun.
• As Seen on Cartoon Network!
Special Features & Extras
- Dolby Digital Stereo-Japanese/English
- Aspect Ratio - 16:9 Anamorphic (Widescreen)
- Interactive Menu
- Image Gallery
- Textless Opening
- Trailers
- Scene Select
- Textless Ending
- Isolated Score Dolby Digital 5.1 Audio Track
- Anamorphic Widescreen Presentation
- .hack//INFECTION PlayStation 2 Game Trailer
- Character Gallery
- Bandai Previews

What The Critics Say
"...arguably the deepest 'online' RPG in terms of plot. .hack reeks of mystery and conspiracy." - TechTV

Japanese Staff Credits
Director - Koichi Mashimo
Composer - Yuki Kajiura
Character Design - Yoshiyuki Sadamoto / Satoshi Ohsawa / Yukiko Ban / Minako Shiba / Yuko Iwaoka
Mechanical Design - Kenji Teraoka / Tatsuya Oka