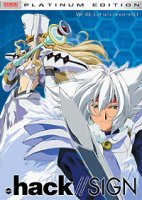 Synopsis
The group seems to have disbanded! BT doesn't log on much; neither does Subaru.
When all the players meet on within the field and renew their quest for the Key of the Twilight, BT informs both Sora and the Silver Knight. Tsukasa takes Subaru to see the 'sleeping girl', but discovers he's missing! Bear realizes that the man in the upside-down castle was Harald Hoerwick, creator of 'The World'and that he may hold the key to this mystery! They'll need a powerful ally to help find again. The final battle is near, each of the party members must decide whether they should fight or not. The only one missing is Tsukasa…
• As Seen on Cartoon Network!
Special Features & Extras
- Dolby Digital Stereo-Japanese/English
- Aspect Ratio - 16:9 Anamorphic (Widescreen)
- Interactive Menu
- Image Gallery
- Trailers
- Scene Select
- Isolated Score Audio Track
- Character Gallery

What The Critics Say
"The Ultimate Synthesis of Anime, Manga, and Video Games!" - Animerica

Japanese Staff Credits
Director - Koichi Mashimo
Composer - Yuki Kajiura
Character Design - Yoshiyuki Sadamoto / Satoshi Ohsawa / Yukiko Ban / Minako Shiba / Yuko Iwaoka
Mechanical Design - Kenji Teraoka / Tatsuya Oka