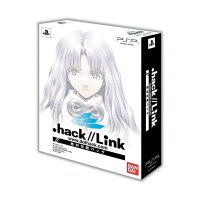 .hack//LINK, also known as .hack//LINK Twilight Knight is an extension to the .hack series. The story is told in manga with art by Megane Kikuya and original story by CyberConnect2. A PSP release of this title has been confirmed with pictures of the game itself in Famitsu Magazine.
The story takes place in the year 2020, just three years after the events of .hack//G.U.. The story will take place not only in the new version of "The World" known as "The World R:X" but in the real world as well. The lead character is a middle school student named Tokio Kuryuu. He lives a normal life as a gamer until a mysterious girl named Saika Amagi transfers to his school. She takes Tokio to the school rooftop one day and sends his consciousness and real body into The World R:X. Where Tokio begins to discover that time for some characters, and even the history of The World itself, is going haywire. Such as Tsukasa turning back into his previous cold mannerisms, and Haseo being cold-hearted and obsessive about finding and killing Tri-Edge.
It has also been revealed from a hidden poem on CyberConnect2's website that Kite from the original four .hack games and Haseo from .hack//G.U. will be returning. According to the group picture set along side the logo on the home page of the official site, other characters such as Azure Kite, Atoli, Tabby, and Ovan will also make appearance.
Features
In an early 2009 issue of Famitsu and Dengeki magazine, a .hack//Link game was announced.
The game is being developed for the PlayStation Portable, and features 100 characters from all .hack media, though only 30 characters will be able to be in the player's party and unlike the previous games instead of a party of 3, this time a party consisting of only 2 members (including the player) will be featured.
Though the game features characters from the Link manga, the game's story will be completely different from the manga's plot.
The game will feature manga-style cutscenes. The game is being developed by CyberConnect2, and will be released in Japan February 2010.
The game is 70% complete. Confirmed characters include Kite, Haseo, Albireo, Atoli, Mimiru, Midori, Tsukasa, Subaru, Silver Knight, Azure Kite, Balmung, Alkaid, Tabby, Elk, and Ovan.
In January 23 of this year, new screenshots (4gamer website) and a teaser trailer have been released, the latter available for viewing at YouTube. Studio 4°C is producing the opening animation video for the game.