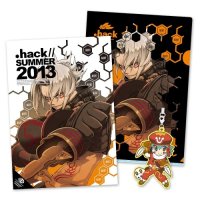 *Products handled vary by store, and may run out due to popularity. Please contact each store for the products and inventory status of the actual store.
Backstage at CC2: CC2 store before opening

Introduction
A full-color booklet of the ".hack" series and a rubber key chain with a kite design,
Introducing a great value set of A4 clear files designed by Haseo.
The booklet contains 40 pages of illustrations and manga contributed by the CC2 staff and authors who have been involved in the development of the ".hack" series.
List of participating artists
Ass, iri, Kinoshita, Koito Ranko, Satou Atsuhiro, TOH., Nagatama, cursed Yoshida,
Hazaki Yamato, Kokko Hirahara, Star Tree, and Yuumeshi. , Rinu (honorifics omitted, in alphabetical order)
Product content
.hack//SUMMER 2013: B5 size, 40 pages, full color
Rubber key chain (Kite)
Clear file (Hasewo): A4 size