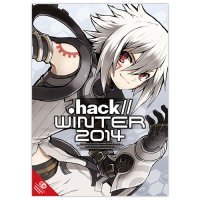 ▲ The cover is drawn by the CC2 staff!
<List of participating artists>
Ass, Inuhan, iri, Kinoshita, Lake Koitoran, Atsuhiro Sato, Sanae, TOH. , Rinu, Ryuki Masayoshi
(Honorifics omitted, alphabetical order)
 Introducing a little bit of the contents!

▲Compelling!

▲ A warm and cozy kotatsu in winter

▲ A paper-cutting work with unusual decorations!

▲ CC2 staff works!
And so on, the ".hack" series
Various characters are drawn!