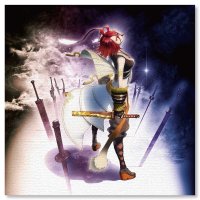 【specification】
Size: 300 x 300mm, Weight: 150g
Popular characters from the ".hack" series are now available as canvases that can be easily displayed!
The illustrations are from the ".hack//GU" series and
In "Guilty Dragon Guilty Dragon and the Eight Curses"
Seiichiro Hosokawa is in charge of character design.
The included outer box can be used as a stand or wall hook, so you can easily display it anywhere.
Color your room with your favorite combination and enjoy the atmosphere of the ".hack" series.