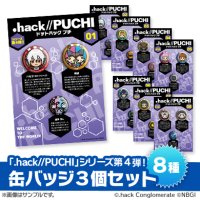 The ".hack//PUCHI" series is a set of 3 tin badges with popular characters from the ".hack" series.
Popular ".hack" series can badge set
Full complete with the 4th edition!
In the 4th edition, popular characters such as Haseo (Xrd form), Sakubo, Shino (black version), Kaito in the early version of the story, Haseo in B-st form, and other elements that fans will love are covered.
If you arrange this series, which consists of 8 types of 3-piece sets, from the 1st to the 4th, you will have a total of 96 types of character motifs.
The fun of searching for your favorite character and the fun of aiming for completeness make this product a popular product with each successive series.
The 4th edition of the large-volume can badge series, which is presented to everyone who loves the ".hack" series, has finally been completed.
Let's collect and play together! Rock-paper-scissors game!
Each can badge corresponds to one of the rock-paper-scissors "Goo, Scissors, and Paper", so you can think about how to arrange them and play a game of rock-paper-scissors!
Specification
・Set of 3
・Can badge (large): 32mm
・ Tin badge (small): 25 mm
・Mount: Vertical 10cm x Horizontal 15cm
© .hack Conglomerate © NBGI