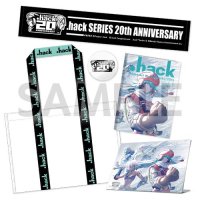 ● From ".hack//Infection Expansion Vol.1 ~ Absolute Siege Vol.4", you can even enjoy publicity illustrations of successive works, including 4 types of package illustrations by Yoshiyuki Sadamoto.
● From "Guilty Dragon: Guilty Dragon and the Eight Curses" and ".hack//New World", the main characters and unit illustrations by Rei Isumi and Koichi Sumimaru are included.
- In addition, there are many works recorded for the first time in this book, such as illustrations drawn for related goods released so far!

The illustrations that have colored the ".hack" series are both nostalgic and fresh, and are worth seeing.
From Vol.2 onwards, the covers will be drawn by Seiichiro Hosokawa! Package illustrations of successive game works, illustrations by Mr. Kikuya Megane are scheduled to be included.

◆ The cover is drawn by Seiichiro Hosokawa!
The main characters from "hack//Infection Expansion Vol.1 ~ Absolute Siege Vol.4" have gathered!
Specifications: A4, full color, 160 pages, with bound poster
・Warif (PP cross) bag
A PP bag with a characteristic color scheme that matches the main color of the art book. Warif material has high durability and strength.
Specifications: W420 x H300

・Acrylic plate
Same A4 size as the art book! Please enjoy the beautiful illustrations drawn by Seiichiro Hosokawa.
Specifications: A4 size

・Muffler towel / can badge
A muffler towel and can badge with a logo, perfect for celebrating the 20th anniversary.
Specifications: Muffler towel...H20 x W110cm / Tin badge...57mm
Customers who purchase the product will receive a "2 types of can badge strap set" as a gift! The design is "Black Rose & Balmung" using the cover illustration of "Game Art Works .hack 20th" by CyberConnect2 artist Seiichiro Hosokawa!
Distribution conditions: Purchase CyberConnect2 products and 1 set for each transaction receive
Target products: All products available at "CC2STORE International"
Diameter 32mm 1 set of 2 types
*First-come-first-served basis, it will end as soon as it runs out