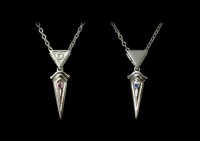 Limited accessories to commemorate the release of the latest ".hack // Link" series, which has heated the world and continues to evolve, are finally here! !!

With the motif of the twin swords of the main character Kite appearing in the game ".hack //", the
original necklace is meticulously carved so that you can fully enjoy the realistic texture and satisfaction of wearing it.
A memorial item for everyone who loves this series!

■ Reservation acceptance period Starts from May 12, 2010 (Wednesday)

■ Product
delivery Scheduled to be shipped sequentially around 7 to 10 days

* Due to popularity, the first in the history of the ".hack" series held on May 9, 2010 The
venue-limited products sold at the crossover live event ".hack // LiVE Drama" will be available only at the Rabbit Market.
* The number of items sold is limited. Please note that sales will end as soon as they are sold out.

■ What is the ".hack" series?
Starting with the TV animation work ".hack // SIGN" that was broadcast in April 2002, music CDs, novels, comics, radio, etc.
[Product Specifications]
■ Material: Brass
■ Size: H22.5mm x W8mm
■ Weight : 3.7g (including chain)