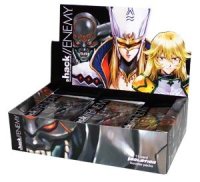 Isolation! After weathering a Contagion, a Distortion, and an Epidemic, now you find yourself in Isolation! Yes, the next .hack//ENEMY TCG expansion set is here, complete with aliens and drain monsters, new fields, lots of Level 2 PCs, special unique weapons, and a new kind of event called dilemmas.
Isolation includes 100 all-new cards: 27 each common, uncommon, and rare, 9 Xtra rare foils, and 10 premium foils. Two different 60-card pre-constructed decks, featuring Gardenia 2.0 and Marlo 2.0, are built primarily from new Isolation cards – including 5 new premium foil cards found only in the pre-con decks – filled out with a mix of cards from Epidemic, Distortion, and Contagion.
The 11-card booster packs are all Isolation, one rare or Xtra rare plus a mixture of commons and uncommons. (The Xtra rare foils appear in approximately 1 in 8 packs.)
Each Booster Display contains 30 Isolation Booster Packs.