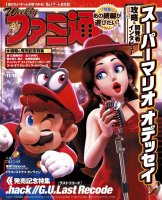 Articles on .hack//G.U. Last Recode
★ Appendix
・ DLC lucky bag
"Toho Clanpool" "Help item set" (* reprinted)
"Dragon's Dogma Online" "Kakusha no Supplied [Remedy]" Set
・ Famitsu's digital content
"Super Mario Odyssey" Past articles Summary

[Strategy Plan]
● "Super Mario Odyssey"
-Lectures on how to
take some power moons in the three countries of Hat Country, Waterfall Country, and Sand Country, along with basic travel knowledge . It also
introduces battles with strong enemies . In addition, an interview
with Yoshiaki Koizumi , who has worked on successive "3D Mario" and also served as the producer of this work, about the secret story behind the development of this work and the
thoughts put into it is also posted. In addition, we will deliver a lot of information to enjoy
"Super Mario
Odyssey" , such as the mayor of the city country New Donk City, a plan to look back on the history of Pauline !

[Release commemorative feature]
◆ ".hack // GU Last Recoad "

[Feature]
◆ any sequel and remake work is you want to play?

[Follow-up]
◆" Dynasty Warriors 8 "
coordinate - of ◆" march of giants 2 to the future "
◆" Dissidia Final fantasy NT "
◆" Hokuto as "
◆ "Ryu ga Gotoku Goku 2"
◆ "Earth Defense Force 5"
◆ "Your Four Knights"

[Special feature just before release]
◆ "Sonic Forces"

[Special feature to commemorate the release]
◆ "Call of Duty World War II"