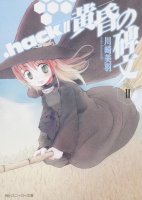 .hack//黄昏の碑文 II
. hack//Twilight Inscription II
Author: Kawasaki Miu
Illustrated by Asako Shiina
List price: 560 yen (main unit 533 yen + tax)
Release date: August 30, 2008
Judgment type: paperback edition
Commodity form: Paperback
Number of pages: 260
ISBN: 9784044199104
The Twilight Dragon finally shows its true power!
Lara, a girl who, in the midst of many encounters and partings, became unable to escape from . In the midst of numerous encounters and partings, something inside her was about to freeze. "I want to change this world." Escape or Transform? What choice did she make? ?
* The image may differ from the actual cover, band, etc.