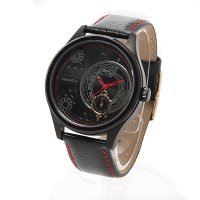 .hack // GU
.hack // GU model watch
¥ 18,800 + Tax
free shipping
A black leather belt and red stitching with a silky texture inspired by the 1st form.
The board is a motif of "snake of knowledge". Wherever you are, you can figure out all the time.
There is a scar of three claw marks left on the back cover.
※ For repair of the watch, failure, battery replacement, and size adjustment will be manufacturer support.
Please contact Marzeki from the following e-mail address.
support@maruzeki.com
Country of origin / China
material / Case · back lid · crown buckle: stainless steel Dial / needle: brass Windshield: mineral glass Band: leather (lining: synthetic leather) Machine: MIYOTA 6P28 (made in Japan)
size    Vertical face    Dial sideways    Case vertical    Case horizontal
Free    3.5 cm    3.5 cm    4.9 cm    4.2 cm
Belt width    Minimal around arm    Max around arm
2 cm    13.5 cm    19.5 cm