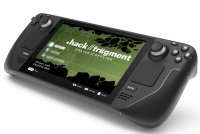 For you Steam Deck users, you can play PlayStation 2 games on your portable device AND go online too. Basically you will be installing PCSX2 on your device, this guide on Github was intended for SOCOM, but you can read this guide with the intent of playing .hack//fragment (or any other PS2 game for that matter) in mind.
https://github.com/GO0dspeed/Socom2-SteamDeck
So the break down is as follows
Switch to Desktop mode, press Steam button and go to power option
Click Discover store button on bottom of screen
Type PCSX2 in search bar then install
Install Flatseal from Discover store
Go to Utilities from Start menu, load Flatseal
Toggle on for PCSX2 for the following

Network
Inter-prcoess communications
All system files

Go to Games from Start menu, load PCSX2
Select your BIOS files from the BIOS menu
Select Vulkan for Renderer and AMD RADV VANGOUGH for Adapter in Graphics menu

Optional select Fit to Window/Screen for Aspect Ratio

On the Texture Replacer tab within the Graphics menu, enable Precache Textures
On the Network menu, check the enabled box, choose Sockets for type, choose Auto or Wlan0 for device

For DNS1 Address, enter 67.222.156.250
There area few more steps you can do in the Github, like making a game specific icon for .hack//fragment on your library list.
Make sure that the game you play is patched from the Tellipatcher.
Congrats, you have successfully patched the game and now launched the game. All that's left is to configure your network settings and save it to your memory card, which we will cover in the guide Setting Up Network Config Memory Card Save.